Anna Barnett, Food Writer
"Lots of layers! Several outfits in one!"
- Anna Barnett
Anna lives in Hackney with her dog Ted. She is currently writing her second book, The Reluctant Vegetarian, while also contributing as a writer to a number of the UK's top publications. She loves being inspired by her friends and visiting Borough Market with Ted.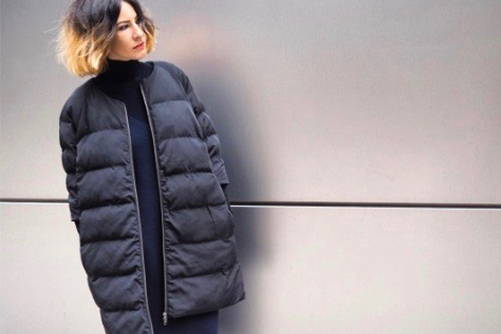 Who or what last made you laugh out loud 
My dog, Ted. He's a Kerry Blue Terrier. A complete lunatic even at 7, nearly 8! He's still as lively as ever and so human in so many ways. He's starting making really loud grumbles which sounds like he's speaking plus huffing at inopportune moments, which sets me off all the time. Plus his fur's a little overgrown at the moment so it's hard to spot his eye, which is funny all on it's own.
Who or what inspires you 
Friends that have really worked hard and made pipe dreams become a reality. I use to work for House of Holland and Henry is definitely one of those people I admire. I love the idea that anything is possible, you just have to put all your energy into it, remain positive and know you can do it.
Your words to live by 
Anything and everything is possible.
What cause or causes do you feel passionate about 
Global warming, I'm addicted to all the documentaries, I recently watched Before The Flood and it's undeniable that this is a reality. My husband's vegetarian (and I try to be as much as possible) which ties in so heavily with global warming. I think it's key that everyone is educated appropriately so the next generation can make the right and educated decisions.
Best piece of advice you've ever been given 
Just know you can do whatever you set your mind to.
Your London in an hour 
Borough Market (on a week day preferably – to avoid the chaos), working my way round the food & produce stalls. Starting with a coffee from Monmouth Coffee, then heading over to pick up a melted raclette over new potatoes with cornichons and silverskins. If I still had room and time I'd duck into El Pastor for tacos. There's also an amazing shop called Borough kitchen with insanely beautiful kitchen supplies so I'd definitely have to swing by. I'd also be sure to pick up a load of cheese from Neals Yard to take home in preparation for my next meal.
Your favourite London view 
It has to be from the middle of London bridge.
Are you working on anything at present 
I'm currently writing my second book The Reluctant Vegetarian. I'm also planning both spring and summer supper clubs while also continuing to write for Grazia, Vogue, Veggie magazine and The Arcadia Online. I cater for a lot of press events with fashion and food brands and am in the process of finalising exciting details of a long term collaboration with a brand I've worked with previously.
Describe your style 
A little art teacher a times. Lots of layers! Several outfits in one!
Whose style do you most admire, past or present 
Helena Christensen always looks amazing as does Rhianna.
Favourite piece from the ENLIST collection
The Ellie Jacket, I've got this in a large as I like the oversized look. The sleeve detail is so nice, it's super warm, I can fit a big jumper underneath and it's classic looking but with an edge. I love it!
---