"My style is bold but understated"
- Annoushka Ayton
Annoushka was born in London but also lived in Paris, Australia and Hong Kong. Her mother was Russian and she is incredibly proud of her Russian heritage – it has always been a huge influence of her design. She lives between West Sussex and London with her husband John and four children Marina, Oliver, Chloe and Oscar.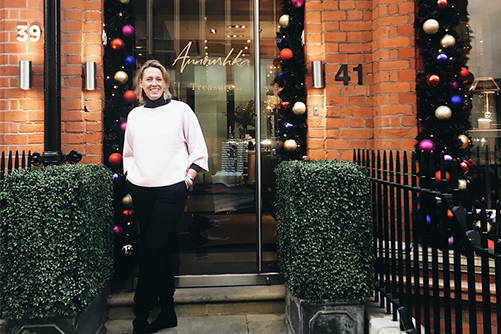 Who or what last made you laugh out loud
My youngest son's Christmas list!
Who or what inspires you
My mother is still a constant source of inspiration for me from her eclectic style to her wonderful intuition and her incredible can-do mentality and unquenchable wanderlust which she has passed on to me.  
Your words to live by
"Yes"
What cause or causes do you feel passionate about
I was lucky to have my mother to inspire me, as well as my husband who I met in Hong Kong and who has been my business partner to this day. Few women today have a strong female role model or mentor who can guide them in the early days and this was one of the reasons why I created my "Inspirational Women" campaign of charitable initiatives and networking opportunities which recognise, inspire and celebrate women. I actively fund 'Give a Future' – a micro-finance programme in Ethiopia which invests in children, women and artisans. It is a not-for-profit organisation which provides business training, small loans and practical support to women, giving them a chance to support themselves and their families.
Best piece of advice you've ever been given
Don't ever look in the rear view mirror; only look ahead.
Your London in an hour
I absolutely love flowers and could spend all day in Columbia Road Flower Market.
Your favourite London view
I love the Southbank in summer – what better place to admire London in its full glory. It has such an amazing atmosphere: I love the wonderfully colourful street art; the buzz of the skatepark. Whichever way you look down the Thames, you are greeted with the most sensational view.
Are you working on anything at present
I am constantly working on lots of different designs but I am particularly excited about my new Crown collection which launches next year. It is a fabulous collection of 18ct Gold & Diamond Stacking Rings which fit together in the most brilliant way (if I do say so myself) and are incredibly versatile. I am constantly adapting the way I wear my own jewellery and I wanted to create a collection which allows the wearer that freedom to adapt their ring stack depending on their mood & personality. It is so important to me that jewellery should be playful, surprising and fun and I feel that this collection really speaks to this spirit of irreverence.
Describe your style
My style is bold but understated. I love structured, classic basics but I'm also not afraid of colour and prints.
Whose style do you most admire, past or present
My mother had fabulous style and has always influenced the way that I dress.
Favourite piece from the ENLIST collection
I love the Isabella Sweater – easy for work and weekends.
---