"

I think being yourself..

"
- Holly White
Holly was born and raised in Culcheth, Cheshire. When she's not working on one of her biggest passions, her fashion and lifestyle blog "The Simple Things", she is travelling up and down the country for modeling shoots and castings. Her blog explores everything from fashion, to her inspirations, and it documents her many modeling shoots, but one of the main focuses is mental health, something that she is extremely passionate about.
Who or what last made you laugh out loud
The last thing to make me laugh out loud was my friend Eleanor!
Who or what inspires you
I am very inspired by other bloggers. It really motivates me when I see other amazing ladies completely killing it in this industry! I am also very inspired by my parents - they are the most hard working people ever and always put me first, which is so so selfless.
Your words to live by
My words to live by are probably 'YOU DO YOU'. I think being yourself and learning to love who you are is such a long, up and down process, but once you start to reach that point, it's really freeing.
What cause or causes do you feel passionate about
I am incredibly passionate about Mental Health. I think it's such an important topic to talk about and that's why it is one of the main focus of my blog now.
Best piece of advice you've ever been given
I think the best piece of advice I've ever been given is just to 'not care what other people think'. Once again, the minute you stop caring is the minute you are free to just fully be yourself!
Your London in an hour
My London in an hour usually begins with rushing off my 2 hour train journey, jumping on the tube, heading to a photo shoot or casting or blogging event, or even meeting a friend for coffee! It's then probably filled with a lot of photos being taken and a lot of chit chat with a bunch of creative people, which I love!
Y our favourite London view
I love looking at London through a coffee shop window. I just like to watch the world go by - London is such a fascinating place!
Are you working on anything at present
At present, I am working on some amazing collaborations and photo shoots, which I cannot wait to share!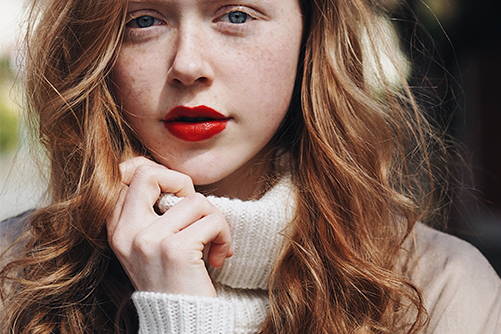 Describe your style
My style is very varied. I don't think I could categorise it into one thing! It's very 'mix n match', but will almost always involve a pair of black boots haha
Whose style do you most admire, past or present
At the moment, I love Megan Ellaby, Monikh Dale, Alexa Chung and Pandora Sykes. I also love people with a more minimal style such as Lizzy Hadfield, Lindsey Holland, Jane Birkin, The Olsen twins etc etc.
Favourite piece from the ENLIST collection
My favourite piece from the ENLIST collection has got to be the amazing Cleo Coat - it's gorgeous!
---